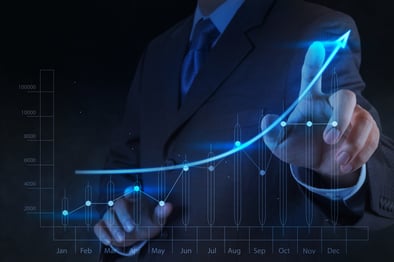 Have you been practicing inbound marketing for a few years, but want to see if it's still the best strategy for you? It's a valid question and one many of our clients face every day, especially those that have been diligently practicing inbound marketing and using HubSpot for at least 1.5+ years. At this point, you typically have a good understanding of inbound, and now want to see how you can really start to leverage the inbound marketing methodology to take your website traffic and lead generation to the next level.
To help shed some light on the most important metrics to track to see your year-over-year progress, and what is working most effectively for you and your business, we have put together a case study on one of our clients that has been practicing inbound marketing using HubSpot for exactly two years. In just two years, they have seen a 91% increase in website traffic and a 178% increase in inbound leads from 2013 - 2015.
The Beginning: Inbound Marketing for this Company in 2013:
With a growing and increasingly diverse customer base, this company turned to HubSpot to standardize its marketing technologies, streamline its communications, and enhance its online customer experience for better retention and sales. Starting to use HubSpot quickly enabled them to take their marketing to the next level by integrating all digital tools such as email, workflows, social media, blogs, internal communications, and more.
Inbound Marketing for this Organization in 2014:
In 2014, they continued to maximize the use of HubSpot, and also transitioned their website to the HubSpot Content Optimization System (COS). In addition to the COS, they use almost all of the HubSpot apps such as analytics, list building, landing pages, SEO, workflows, and calls-to-action to help engage customers in ways no one else in the industry does. By utilizing these tools that are all interconnected in HubSpot, we are able to provide real-time data and actionable insights for delivering powerful metrics to continue to improve on campaign performance. By having a majority of their digital assets on HubSpot, they saw a 22% increase in website traffic from 2013 - 2014, and a 51% increase in new leads from 2013 - 2014!
Inbound Marketing in 2015:
The next step for this organization with inbound marketing was to make the website and digital content "smart" or dynamic. The smart content and smart calls-to-action apps dynamically tailor content, images and calls-to-action in emails and on landing pages for every visitor. This allows us to customize the content that is on their website to be much more targeted to what that individual is searching for on their website. Here are some of the results they saw in 2015 as a result of a diligent and holistic approach to inbound marketing utilizing some of the latest features in HubSpot including smart content, personalization, and integrations.
Website Traffic:

57.5% increase in web traffic from 2014

Number of New Contacts:

84% increase in new leads from 2014

New Social Media Fans & Followers: 685% increase from 2014
Number of Social Messages:

26% increase from 2014

Number of Social Interactions: 556% increase from 2014
Traffic Rank: #1 website traffic rank amongst specialty pharmacies
HubSpot Connect Strategy in 2015:
In addition to seeing metrics growing at an exponential rate, this organization wanted to focus on leveraging the latest marketing technologies that integrate with HubSpot. To do this, in partnership with Prism Global Marketing Solutions, they were part of a group of beta testers for some of HubSpot's latest integrations launched at INBOUND as part of HubSpot Connect. As a result, we have been actively utilizing the following integrations as part of their holistic inbound marketing strategy.
Wistia
UberFlip
Salesforce.com
SurveyMonkey
ReadyTalk
As you can see, inbound marketing is not a fad, and is here to stay. This case study is a prime example of how inbound marketing can not just continue to generate leads, but exponentially grow over time if a diligent inbound strategy is practiced, and the latest marketing and sales technology is being leveraged to stay ahead of the curve.
Schedule a consultation with our team of inbound marketing experts to see how you can see the same type of growth with your integrated marketing efforts utilizing HubSpot.