How effectively are you utilizing social media re-marketing to connect with your existing lead and customer base? While there is always a great deal of focus around generating new leads and new customers, connecting with individuals who are already in your pipeline is equally important. Through retargeting on Facebook with the Facebook and HubSpot integration, you are able to target specific ads to individuals at every stage of the pipeline.
So how does it work? Facebook is able to find your existing leads and customers on Facebook by anonymously matching their email addresses to their Facebook profiles, creating a unique audience that can be used for multiple ad strategies. This allows you to create incredibly targeted segments, and reconnect with individuals who may have disengaged in the last few months, or those that you want to move further through the marketing and sales funnel.
We would like to share with you how we worked with one of our clients to engage their already existing lists in HubSpot to retarget them and re-engage them on Facebook, while also generating new leads through targeted Lookalike audiences.
Agricen is an agricultural technology company delivering biochemical-based solutions for efficient and sustainable plant nutrition. Agricen's solutions help growers adapt to the rapidly changing demands of modern agriculture by providing the most effective tools to increase nutrient availability and uptake, improve sustainability and increase yields.
Agricen knew from HubSpot's sources report that Facebook was an engaged audience. Agricen was connecting with this audience through standard Facebook ads and boosted posts, but were looking for solutions to really maximize the full potential of the engagement on that social platform. We worked with Agricen to implement Facebook ads in parallel with the existing email and content marketing for three main use cases:
Overall Branding & Blog Subscriptions: The first use case is an overall branding campaign to drive Newsletter/Blog Subscriptions. We synced a Smart List of existing Agricen clients from HubSpot to GoChime, then created and targeted Facebook Lookalike Audiences with mobile and desktop Facebook Page Post Link Ads. Using additional Facebook targeting parameters overlaid on top of the Facebook Lookalike Audience, Agricen was able to add further refinements tailored to their content.
Webinar Registrations: The second use case is for generating leads for a quarterly webinar - a pivotal step in Agricen's lead nurturing cycle. To do this, we synced several smart lists including:

Individuals who had not opened their webinar invitation
Individuals who had opened but had not clicked their webinar invitation
Individuals who had visited the landing page for the webinar, but have not yet converted to a webinar registrant

Premium Content Downloads/Lead Generation: The third use case is for lead generation for many of Agricen's premium content offers. Agricen has a wide variety of case studies, whitepapers, videos and more on their website, and this offers many opportunities to engage members of their list who have not yet downloaded certain pieces of content. For example, we will regularly run Facebook campaigns using retargeting that targets a list of individuals who have not yet downloaded certain whitepapers.

The Results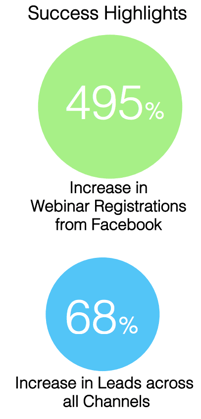 Using HubSpot to deliver webinar invitation emails and Facebook for webinar invitation retargeting ads, Agricen achieved an immediate lift in webinar attendance. In just the first month of using retargeting ads with the HubSpot integration, these targeted campaigns created a 495% lift in webinar registrations compared to prior webinars.
Over the course of the next three months, these campaigns would continue to drive 156% lift across Newsletter Signups and Webinar Registrations from Facebook than Agricen was generating using Facebook Boosted Posts and email marketing. Furthermore, Agricen generated significant ancillary Facebook-specific activity including:
617% increase in Clicks
25% increase in Followers
10% increase in Interactions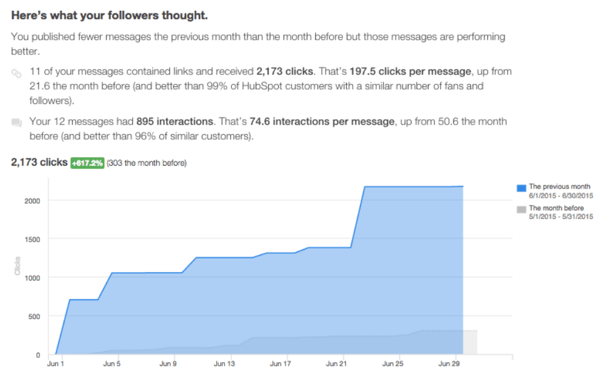 Across all campaigns over the first 90-day time period, there was a 68% overall lift in leads for Agricen. In addition, we see an average of an 8% - 10% conversion rate on retargeting campaigns because the lists are so much more targeted, and we can connect HubSpot insights and analytics to Facebook campaigns.
"Facebook may not seem like the optimal channel to generate leads and deep engagement for a B2B company like Agricen. What we found is that the channel doesn't matter if we are able to reach our prospects through the channel that is most familiar to them, which Facebook is for many of our prospects." states Peter Ruzicka, Agricen's VP of Marketing.

What's Happened Since? Update as of October 2016
The Facebook and HubSpot integration continued to play an integral part in Facebook marketing efforts for Agricen. As you can see from the chart below, visits and leads from Facebook retargeting continued to drive both visits and leads. As part of the Facebook remarketing strategy, Agricen and Prism Global Marketing Solutions expanded the focus and targeting of Facebook ads including, but not limited to:
Webinar registrations based on email activity

Whitepaper and case study downloads

Newsletter and blog subscriptions

Re-engagement campaigns for inactive prospects

New product launch announcements




Conclusion
Not only has the Facebook ads integration with HubSpot helped to increase qualified traffic and leads, it also allows Agricen to continue to stay in front of their prospects and customers on a channel that is most comfortable to them, and where they are spending the most time online.
If you haven't tried leveraging Facebook and HubSpot in your HubSpot account, we invite you to schedule a complimentary marketing consultation with our team to learn more about how retargeting ads using Facebook and HubSpot can work together to engage your existing leads and drive new leads with Facebook re-marketing.