SITUATION & BACKGROUND
One of our clients is a global manufacturing company that serves a range of industrial markets in test, measurement, inspection, and assembly. Tasked with driving innovation in the areas of leak testing, in-process testing, and data management, this manufacturing company serves industries ranging from automotive and off-highway, to medical devices, consumer electronics, and industrial process control. The company has a large database, but they weren't effectively engaging prospects by email to continue to educate their target audience about their leak testing devices. Strategically using email marketing would help them continue to earn trust while building website traffic, new and re-engaged leads, and customer conversion.


OBJECTIVES & GOALS
Before working with Prism Global Marketing Solutions, the manufacturing company did not have an active email program to engage their database of prospects and customers. The marketing program was very sales-driven, but given their product, they needed to educate and stay top-of-mind in order to drive revenue and repeat business. The primary objectives of this email marketing program were to:
Build Thought Leadership with Prospects
Stay Top-of-Mind with Customers
Generate Re-Engaged Sales Qualified Leads for the Sales Team
Build Interest in Downloadable Content with their Prospects
Send Prospects High-Quality Content to Bring Them Through the Buyer's Journey
We first analyzed their buyer personas to determine what types of content would be helpful for their audience. This included reviewing existing content assets and determining what new assets needed to be created. We developed an email content plan that included the development of content for their blog, downloadable content such as whitepapers and guides, and more informative brand content for middle and bottom-of-the-funnel sales-ready contacts.

STRATEGY, TACTICS & RESULTS (DATA COMPARES 2022 RESULTS TO 2021)
Their email marketing program consisted of a monthly lead re-engagement email for a downloadable piece of content, in-person and webinar event promotion, and blog notification emails to subscribers every 3 - 4 weeks based on when content is distributed.
Developed New Email Strategy: We implemented the following as it relates to each email as part of this new approach to email marketing:
Email Marketing Templates: We kept this simple to focus on the primary content asset and secondary action, which is more sales-focused.
Optimized Content & Calls-to-Action: Each email needed to be concise to grab the reader's attention, with a call-to-action (button) and text that told the individual what was expected next. This includes "downloading" the asset, "requesting" a meeting, etc.
Tested "From Names": We tested emails from their brand name as a more generic "from name". Then we tested the emails coming from the sales individual responsible for that business unit or event. The open rate was 6.9% higher from an individual, so we moved forward with that strategy for future emails.
Conducted A/B Tests of Subject Lines: For this audience, since there wasn't data on subject lines, we needed to perform A/B tests to see what performed best. We tested brackets, emojis, using the first name, and length. We found that subject lines with less than 70 characters and brackets at the front or an emoji in the middle or end performed best.
Increased Email Marketing Opens & Email Clicks: With a much more strategic and tactical approach to email marketing, the manufacturing company saw the following results:
110% increase in emails sent
212% increase in email opens
320% increase in email clicks
This is an example of a downloadable content promotional email: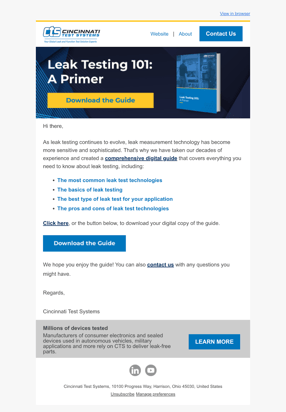 Increased Website Sessions, Leads, and Customers from Email: Because of a focus on calls-to-action for specific personas, we saw the content resonate much better with their audience. This resulted in:
200% increase in website sessions from email
700% increase in new contacts from email
620% increase in new customers from email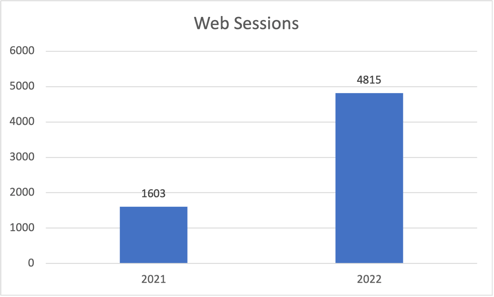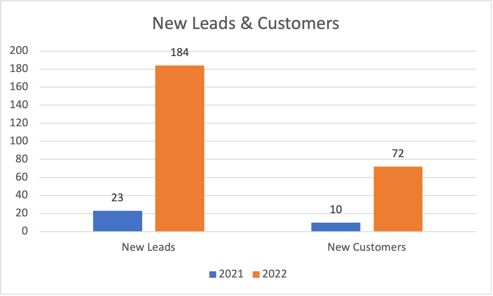 Improved Blog Engagement from Email Marketing: To ensure subscribers were aware of new blogs, we implemented blog notification emails that are sent to subscribers daily, weekly, or monthly. This is based on how frequently the subscriber selects to receive these emails. In addition, we implemented quarterly blog round-up emails for everyone else in the database so they could see the latest blog articles. This resulted in:
271% increase in blog sessions from email
302% increase in new blog subscribers from email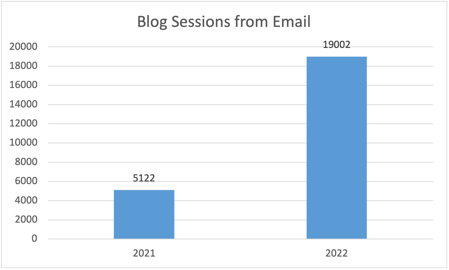 This is an example of a blog round-up email we use quarterly to engage their database: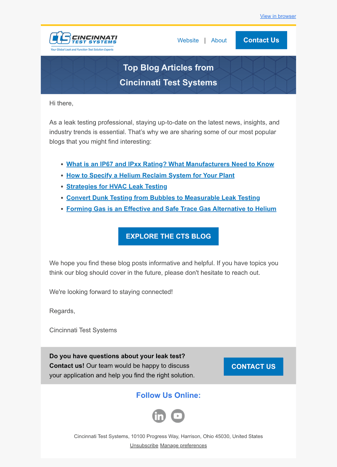 Increased Revenue: The goal of any marketing department is revenue generation. They saw a 299% increase in revenue from email marketing efforts alone. This is a contact who was generated by email marketing, or filled out a sales inquiry form from an email marketing campaign.
Increased Email Deliverability: One of the most important but underutilized metrics tracked is deliverability. If emails aren't delivered, they don't serve the purpose of the email program. To start, we used a system called NeverBounce to cleanse the database. This ensured the contacts in their automation platform were all valid. During this timeframe, the manufacturing company saw a:
1.43% increase in email deliverability
3% decrease in hard bounces
.9% decrease in unsubscribes

BUSINESS IMPACT
299% increase in revenue
212% increase in email opens and 312% increase in email clicks
200% increase in website sessions from email
700% increase in new contacts from email
620% increase in new customers from email
If you're looking to achieve similar results as the company featured in this case study, we invite you to speak with one of our inbound marketing experts today. We will discuss your current marketing and sales goals, how you're leveraging HubSpot, and the potential impact you could achieve when working with a HubSpot partner.