Are you using email marketing and marketing automation to its fullest potential? It's time to maximize one of your most important and cost-effective marketing channels...email marketing. One of our clients develops and delivers innovative solutions that promote agricultural sustainability and improve plant health and performance. They have a variety of products that are specifically for farmers and are sold through distribution. Farmers have different needs based on their crops and climate. To help deliver them the most relevant content, it was essential to have marketing automation workflows in place to send farmers the most helpful product information based on their unique goals.
This agricultural company has hundreds of unique resources for growers, including whitepapers, studies, videos, webinars, infographics, and much more. The goal of this marketing automation was to deliver them a variety of content to understand what was most meaningful while ensuring growers see the latest and most impactful data and studies to move them through the buyer's journey. For their marketing automation program, their primary objectives were to:
Build Thought Leadership with Prospects
Stay Top-of-Mind with Customers
Generate Re-Engaged Sales Qualified Leads for the Distribution Team
Build Interest in Downloadable Content with their Prospects
Send Prospects High-Quality Content

to Nurture Them Through the Buyer's Journey
We reviewed their content assets based on each product to see which assets generated the most interest. Then we looked at what mix of content would be most impactful so we could deliver unique and different content to resonate with a variety of growers. From there, we put together a 6 - 8 email journey with sales automation built into the workflow to ensure that the client stayed top of mind while growers were making their purchasing decisions and to notify sales and distribution once a prospect became qualified to engage with.

STRATEGY, TACTICS & RESULTS
The new marketing automation program consisted of 9 workflows (nurture programs) that included 6 - 8 emails each, with 6 - 8 associated landing pages, thank you pages, and automated emails. The enrollment for each of these workflows was based on their product of interest, which is specific to their crop and geography, and their Lifecycle Stage (i.e., where they are in the buyer's journey).
Here is a snapshot of part of one workflow: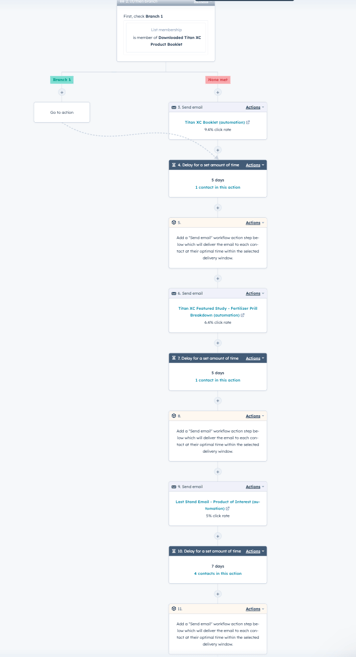 Below is the information we can see from each email and its performance, specifically in the workflow. This helps us track engagement to see if emails need to be modified or removed and replaced from the workflow.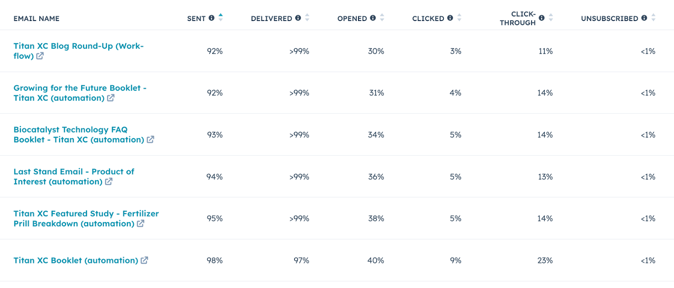 The following is an example of the design of the emails in these marketing automation workflows.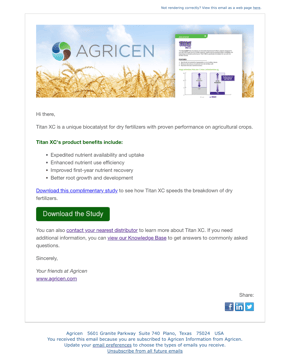 Developed New Email Strategy: With this new email program, we developed a strategy and implemented the following as it relates to each email as part of the automation journey:
Email Marketing Template: We kept this simple to focus on the primary content asset and secondary desired action. We have found that shorter content works best for this audience, and there is more engagement than a longer-form email.
Optimized Content & Calls-to-Action: Each email needed to be succinct, with a call-to-action (button) and text that clearly told the individual what was expected next. This includes "downloading" the asset, "requesting" to connect with sales and more.
Conducted A/B Tests of Subject Lines:

For this audience, since there wasn't data on subject lines, we needed to perform A/B tests to see what performed best. We tested brackets, emojis, and using the first name and length. We found that subject lines with less than 60 characters and that started with brackets performed better than subject lines that used emojis or personalization.

Increased Email Marketing Opens & Email Clicks: With a much larger focus on email marketing and marketing automation to connect with prospects, the client saw a dramatic increase in email engagement. This included the following:
Average Open Rate: 48.6% (an increase of 7% from the prior year)
Average Click Rate: 14.7% (an increase of 4% from the prior year)
Average Click-Through Rate: 30.5% (an increase of 9% from the prior year)
Increase in Total Emails Opened of 21%
Increase in Total Emails Clicked of 28%

Increased Website Visits and Leads from Email Marketing: Looking at website page performance is also a key indicator of marketing automation success, especially in the first few months of a new automation program when many contacts go through a campaign. We reviewed the website activity specifically from email marketing, including website visits and new lead generation. The client saw the following:
26% increase in webpage views from email
29% increase in new leads from email

32% increase in clicks

on call-to-action buttons from email


Increased Email Deliverability & Engagement Using AI: One of the most important but often underutilized metrics in email success is deliverability. If emails aren't being delivered, they don't serve the purpose of the automation program. We use AI and send time optimization for these marketing automation emails. Send time optimization is when you optimize when an email is actually delivered based on the day of the week and the time of the day that a contact is most likely to engage. This is based on data we have on when individuals have previously engaged with email in the past. This enables us to personalize the content delivery process to reach growers when they are most likely to interact. During this timeframe, the client saw the following:
5,269 contacts were re-engaged in emails in 2022


This means that these contacts had not previously opened or clicked an email in 6 months and then became engaged again as a marketing and sales prospect.

9% increase in email deliverability
3% decrease in hard bounces
5% decrease in unsubscribes

The following also shows how the client's email health is compared to all HubSpot users (their marketing automation platform), and their email health is doing very well with no actionable recommendations.

IMPACT
21% Increase in Total Emails Opened
28% Increase in Total Emails Clicked

26% increase in webpage views
29% increase in new leads
5,269 contacts were re-engaged in emails
9% increase in email deliverability
5% decrease in unsubscribes

A Note from Our Client: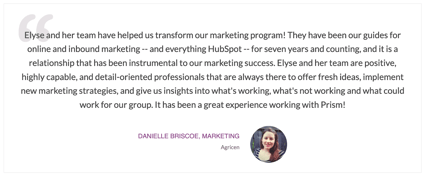 If you're looking to achieve similar results as the company featured in this case study, we invite you to speak with one of our inbound marketing experts today. We will discuss your current marketing and sales goals, how you're leveraging HubSpot, and the potential impact you could achieve when working with a HubSpot partner.