Implementing the inbound marketing methodology is a comprehensive process that requires the right mix of marketing strategy, content creation, digital amplification, social media, search engine optimization, email marketing, sales alignment, customer-centric content, revenue growth, and actionable analytics and insights. In order to drive substantial ROI from inbound marketing, it is imperative to utilize all facets of the inbound methodology to create a strategic and tactical approach that will drive continual results for both the business, and for each individual campaign. In this case study, we outline how one of our clients leverages HubSpot, with a comprehensive inbound marketing and sales strategy, to drive growth at all levels of the business.

The Challenge:

100 Percent Financed is a real estate investment and funding organization that works with clients in the United States. Their challenge was that they had a significant amount of content, but lacked a way to share that content with their audience in a way that would reengage existing contacts, generate new leads, and move prospects through their sales funnel to become customers. In addition, while their sales team was generating new sales each month, they did not have a way to track sales progress, qualify leads, and manage their pipelines to identify 'source to deal alignment' to determine the most effective marketing campaigns. The team started evaluating HubSpot agencies to train them on HubSpot, implement the tools most effectively, and manage their content development and inbound initiatives in order to drive growth.


The Solution:
100 Percent Financed turned to Prism Global Marketing Solutions, a HubSpot Diamond Partner, to help build a strategy and sustainable plan to:
Automate the marketing and sales process
Create quality content to resonate with their buyer personas
Amplify their existing content to reengage contacts and generate new leads
Analyze the data to improve upon the plan and continue to drive revenue growth
Streamline business operations
Our team created personas for each customer segment for 100 Percent Financed. From there, we developed a content strategy to align with each of the personas including blog content, email marketing, automation, lead generation initiatives, and social media. This approach included leveraging 100 Percent Financed's existing content and making it accessible to new leads and existing contacts while developing new content to align with the buyer's journey. In addition, we worked with their sales team to develop customized pipelines, deal stages, and sales workflows to align with their product and service offerings to track deals and qualified leads by source.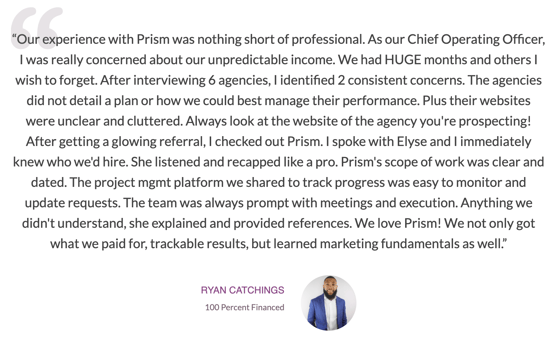 Here are the Results for Marketing Growth for 100 Percent Financed:

Structured Blogging Strategy by Product and Persona:

As a first action item, we added a primary and secondary call-to-action in existing blogs, and all new blogs, because blogs were proving to be effective for both driving new leads, and reengaging their database.

1,408% increase in blog views
1,871 new blog subscribers (compared to 0)
99 customers were influenced by reading a blog post before becoming a customer, which is 28% of customers


Lead Generation with Dynamic Forms and Calls-to-Action:

The content available on their website was all un-gated, which did not allow people to become leads, or express interest when accessing all of their existing content. We added landing pages to their content offers, and also included progressive and dependent logic to these forms to ensure that only the most qualified leads were going to sales, given their quick increase in digital lead numbers in the first few months.





213% increase in landing page views as a result of search engine optimization, CTA placement, and link placement, throughout website and blogs
457% increase in submissions
77% increase in view to submission rate
242% increase in new contacts generated on landing pages



Increased Top-of-the-Funnel Conversion with Pop-Up Forms: Much of 100 Percent Financed's audience was just browsing content, and they can have a longer sales cycle for one of their primary service offerings. It was critical to align top-of-the-funnel pop-up forms to capture those contacts, without making it a barrier to entry.


1,230 contacts engaging
395 sales qualified leads
6.55% conversion rate (Industry average for these forms is 3.09%, source: sumo.com)



Amplified Social Cadence:

100 Percent Financed had a strong social following. We were able to engage their existing followers and drive new engagement and new leads on social media through Facebook, Facebook Groups, LinkedIn Company Page, LinkedIn Personal Pages Instagram, Twitter, and YouTube.

43% increase in social media audience
250% increase in new leads from social
91% increase in social media interactions
80% increase in social media clicks



Improved Email Marketing & Marketing Automation: 100 Percent Financed was not leveraging email marketing effectively, but had a very engaged database of contacts who were interested in hearing from them regularly. By implementing a strategy around batch email campaigns and marketing automation campaigns based on persona, 100 Percent Financed saw the following improvements to their email performance:


207% increase in opens
241% increase in clicks
13.34% average open rate and 12.85% average click rate


Introduced a Content Share Hub: Given the amount of content that 100 Percent Financed had, and their highly engaged audience, we determined that their content needed to be displayed in one place to allow people to access and share the content.


3,301 views in 6 months
1,082 content shares via social media and email



What Was the Impact of These Efforts?

3,006 New Leads: The following shows the increase by source compared to the same prior timeframe.

Total: 168% in total new leads
Social: 250% increase in new leads from social
Organic: 200% increase in new leads from organic
Referral: 107% increase in new leads from referral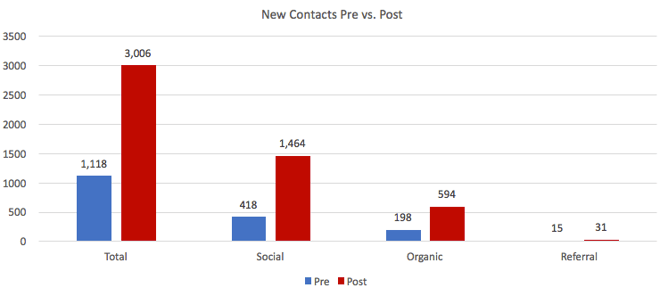 2,028 Sales Qualified Leads (prior timeframe was not tracked before using HubSpot & working with an agency)
1,594 Opportunities (prior timeframe was not tracked before using HubSpot & working with an agency)
358 New Customers Resulting in $1,045,000+ in Revenue (prior timeframe was not tracked before using HubSpot & working with an agency)
100 Percent Financed saw a 1274% return on their investment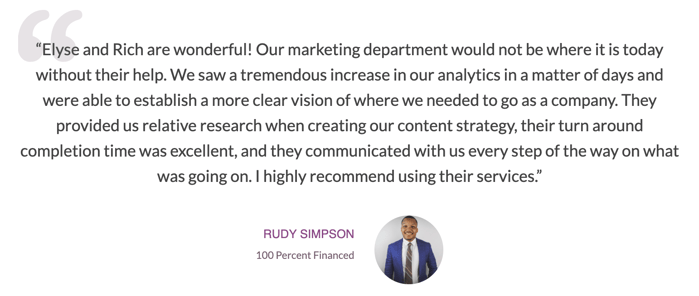 How Did We Leverage HubSpot Sales & Service Tools Too?

The use of the HubSpot Marketing Hub is critical to generate new and re-engaged leads and contacts, but it's also important to focus on how the sales team takes those leads and moves them through the decision-making process in the most efficient way, and how the service team can connect with customers.
Pipelines and Deal Stages: We quickly saw the need for multiple pipelines and deal stages based on the variety of product and service offerings available.

4 separate pipelines
41 deal stages to streamline the sales and operations process
30+ Deal Workflows created to automate the deal stage process even further for the sales team

Templates & Sequences: With a streamlined approach to sales, it was important to make sure the sales team was equipped with email templates and email sequences to make the follow-up process smoother, help them save time, and improve their follow-up rate. This resulted in:

71% email open rate for sales templates across their most-used templates
28% replied directly to the sales rep after opening the email
6% conversion to book a meeting
Feedback Survey:

The survey tools in the Service Hub gave a streamlined way to create and deploy an NPS survey for customers to gather feedback quickly and efficiently. This tool was tested by sending via email and also through a website pop-up. The results showed that the website pop-up was preferred by customers.

14% conversion rate to complete the survey

121 detailed responses provided to senior management


Knowledge Base: This tool gave us the ability to create content exclusively for customers to help them find the answers they needed quickly and efficiently.

34 new articles created
2,640 views


HubSpot Connect Integrations:
In addition, we used the following integrations to even further streamline processes and improve efficiencies for 100 Percent Financed.
| | |
| --- | --- |
| Databox | Zoom |
| Google Search Console | Teamwork |
| SurveyMonkey | Proposify |
| Zapier | OrgChartHub |

As you can see, there are many facets to an inbound strategy that need to work together in complete efficiency to drive the most impactful and sustainable results. With a proven approach to strategizing and implementing the inbound marketing methodology, 100 Percent Financed is now seeing continuous results from their marketing and sales efforts driving new leads, opportunities, and customers.


If you are currently using HubSpot, and want to see how we can help you maximize your investment, we invite you to speak with one of our inbound marketing experts today. We will discuss how you currently use HubSpot, your goals, the process for a full marketing technology stack audit, and the results you can expect to see.