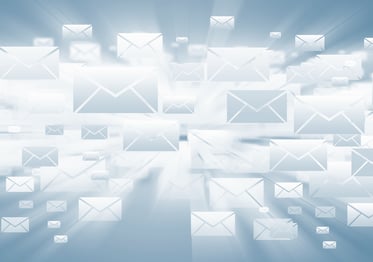 With 94% of B2B buyers saying they conduct research before purchasing a business product, companies are realizing that they can't wait for their prospects to connect with sales before getting involved in the buying process. As much as 70% of the B2B buying process is now completed before a prospect agrees to meet with a vendor.
Like it or not, marketing is becoming a boardroom discussion. Recent research by Oracle and Econsultancy shows that marketers are demonstrating their impact like never before. And email marketing makes up a large part of that impact. Data from a Monetate's Ecommerce report shows that email is the biggest driver of conversions — even over search and social.
Why should CEOs care about email marketing? Because they care about revenue. Here are four ways email marketing contributes to that goal.
1. Email marketing captures top-of-the-funnel prospects.
The buying process doesn't usually progress in a straight line. Unless you're selling $10 widgets, buyers will likely be doing research online, comparing products and services, and trying to determine which provider to trust to deliver those products or services. This research stage usually takes a while, and it doesn't follow a neat pattern. Not only this, but B2B buyers most often have a series of decision makers and steps that the process must go through.
Email marketing is the perfect way to capture top-of-the-funnel prospects—those who have just begun their research. If you have no automated way of keeping in touch with these prospects, they'll wander off to a competitor who does. You can use blog posts, articles, downloadable premium content, e-courses, and video as carrots to offer prospects in exchange for their email addresses. Then you can begin marketing to them. (Appropriately—just don't be annoying!)


2. Email marketing is an essential part of lead nurturing.
Once prospects have shown interest and entered the marketing funnel, you need to keep them on the line. Remember that they're still researching other products and services, as well as competitors. Your job at this stage is to demonstrate your expertise, earn trust, and show that you understand their needs in a way that your competitors don't.
You can use drip email campaigns keyed to what each prospect is searching for to educate and gently persuade that your solution is the perfect one. A series of 5 or 6 emails, each building on the last, is a great way to deliver value while communicating the messages you want to make sure they get.


3. Email marketing helps your sales team guide prospects through the buying process.
When prospects are receiving valuable, helpful information from a company via email, they're going to be a lot more open to taking calls from your sales team. Salespeople will also find it much easier to generate conversation points when they can reference what's being sent via the email campaign that's been triggered by what the prospects have already demonstrated interest in.
Salespeople can also pick up where a campaign leaves off to dig further into the subject of interest, providing more in-depth information and case studies. Email marketing has set up the play for the salespeople.


4. Email marketing is trackable.
Today's email marketing isn't the fluff "we think it's working" type of marketing that was the bane of CEOs in the past. It's measurable, and it's demonstrated to be one of the best strategies we have in today's digital age.
Email marketing is completely trackable, down to exactly who opened, when, what links they clicked on, and what actions they performed on the linked pages. You can easily follow a prospect's journey completely through from first open to final purchase. So you know exactly what's working and what's not.
Today's CEOs should care about email marketing for one reason: it's an invaluable tool to produce more top-line revenue. Yes, it's time to bring marketing into the boardroom.

If you would like to learn more about how email marketing can help increase your conversions and customers, we invite you to schedule a complimentary assessment with our team today.
This is a guest blog by Mike Donnelly.
About Mike: Mike Donnelly is the CEO & Co-Founder of Seventh Sense, a SaaS platform designed to plug into your Hubspot marketing automation account and existing email systems and quietly listen—listen for the times that individuals engage with you, capture their patterns and use artificial intelligence to predict when a recipient is most likely to open and engage in email. Then Seventh Sense empowers it's users to personalize the delivery time of their marketing campaigns to each recipient. Mike is a data fanatic who's always looking for new and creative ways to help sales and marketing professionals get better at their trade.