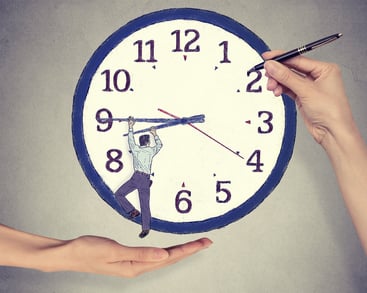 One of the most worrying facts for website owners is that most people leave a new website in under a minute. Those visitors will see very little of your content, so they aren't likely to remember you a day or a week later. This means you need to do everything you can to increase your visitors' time on site.
Fortunately, it isn't hard to encourage people to stick around. Using the below 8 simple techniques, you can greatly improve the chance that new visitors will spend plenty of time reading your content, exploring your products, and so on. Even better, these methods can be used on just about any type of site.
1. Improve Your Site's Design
A site user makes up their mind within only several seconds whether they'll remain on your website. Start by putting your most important content in the area above the fold of your website on both mobile and desktop. Your users should instantly see the most important part of a page when they land on your site.
Keeping your site's design simple and clutter free makes it easier for users to look at it. If there are fewer things to distract them, then users are more likely to engage and stay on your site longer. Also, integrating easy-to-use chatting systems for mobile sites, like Text Request, will make navigating your site even more simple and appeal to visitors for longer stays.

2. Optimize Your Images
High-quality images that capture your visitors' attention will encourage them to stick around on your site longer. Be sure to also optimize your images to improve your page loading speed. This is important because if your site takes too long to load, your visitors might get tired of waiting and move on to another site.

3. Make Your Content Readable
You'll lose visitors quickly if your content reads like an encyclopedia, so make sure that your content is easily readable and works well on all devices (laptops, desktops, cell phones and tablets, etc.) so that all users have a great experience.

4. Include Videos
Videos are one of the most effective methods for improving how long visitors stay on your website. It's estimated that over 80% of all web traffic will consist of video by the year 2022. YouTube is very popular simply based on the fact that people love watching video content.
Using video also grabs the attention of users. As they watch videos embedded on your site, it lengthens how long they remain on your site and improves your time-on-site metrics.

5. Add a Live Chat Option
For some visitors, the reason they leave a site is due to pure frustration. They can't find the answer to their question or they're experiencing some other issue that they want a real-time resolution for.
By adding a live chat option to your site, you'll be sure you've got someone there to answer their questions and keep them from unnecessarily leaving for another site.

6. Utilize Internal Links
It's important to include plenty of internal links on your website. By offering lots of internal links, you direct people to other parts of your site and encourage them to explore everything you have to offer. If you send them away to another site, they may never come back. Adding internal links will also decrease your bounce rate and improve your overall SEO results.

7. Write Engaging Content
It goes without saying that your site visitors are looking for outstanding content to consume. Work hard to provide the most engaging content that will shine over the content provided by your competitors.

8. Add Exit Intent Pop-Ups
Exit intent pop-ups can be an effective way to increase your visitors' time on site. This kind of pop-up appears when a user tries to leave your site (usually when they move their cursor to the very top of the screen), and attempts to convince them not to go.
Exit intent pop-ups work best when you use them to offer something specific to the visitor. You can provide a special coupon or discount, promote an intriguing piece of content, or encourage them to sign up for your blog or newsletter. Of course, it's also important not to annoy people, so you'll want to avoid making these pop-ups too intrusive or hard to close. There are plenty of solutions you can use to create pop-ups on your site. AddThis, for example, enables you to set exactly when your pop-ups appear and customize what they contain.

If you're interested in discussing your current marketing strategy and how you can improve your visitors' time on website, we invite you to schedule an inbound marketing consultation with our team.


Guest Blog Contributor: Emma Sturgis is a freelance writer based out of Boston, MA. She writes most often on health and education. When not writing, she enjoys reading and watching film noir. You can follow her on Twitter @EmmaSturgis2.