Are you getting ready for INBOUND? INBOUND is HubSpot's annual marketing conference bringing together 18,000+ marketers, sales professionals and business owners worldwide, and it's happening in just a few weeks in Boston, MA.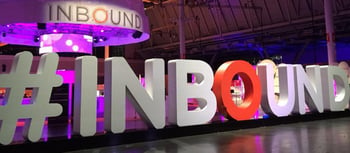 With so many conferences to choose from, INBOUND is truly the conference that has the power to inspire and trasform marketers, sales professionals and business owners. I've attended INBOUND since 2012, and it is my favorite and most valuable conference of the year. It's the one conference that I know I absolutely cannot miss because of all of the great content and networking opportunities available throughout the week. I always learn an incredible amount, and enjoy meeting with HubSpotters and other inbound marketing and sales professionals from around the globe.
Whether this if your first trip to INBOUND, or you're a seasoned INBOUND veteran, you can always get more out of the conference. Here are some tips to help you get even more value out of your attendance at INBOUND.

Download the INBOUND App: This is absolutely critical to a successful conference. The app allows you to build your agenda, network with other attendees, stay updated on the latest social media discussions, get a map of the venue and rooms (very important since the conference gets bigger every year!) and much more.
Register for Your Sessions in Advance: As INBOUND continues to grow, HubSpot is changing how people can register for specific sessions at the conference. Over the next few weeks (if you haven't already), be sure to secure your spot for the sessions that interest you the most. You can register online to guarantee your seat at the sessions. Keep in mind that if you arrive less than 10 minutes before the event, your seat may be given away to people in line.
Focus on 1 - 2 Tracks: If you've checked out the INBOUND agenda, there's a lot going on during the week from conferences, events, networking opportunities and more! From experience, it helps to focus on 1 - 2 tracks to help you really hone in on getting the content you're looking for during the conference. For example, if you're interested in more tactical content, you might want to attend the "HubSpot Hacks" or "Grow with HubSpot" tracks. If you're a CMO or executive, you may want to attend the "Executive Track" or the "Bold Talks" series. There's a huge amount of content at INBOUND, so just be sure you stay focused, so you can make the most of your experience.
Don't Skip Networking: INBOUND is full of great content, but there's also some great networking opportunities to meet people from all over the world with the same marketing and business goals as you! Be sure to stop by Club INBOUND so you can network with other like-minded marketers! There are also some great evening events to check out too!
Join the Conversation on Twitter: Share what you are learning at INBOUND with the hashtag #INBOUND19. Twitter is incredibly popular during the conference, and is another great way to build a social following, as well as an excellent way to connect with others at the conference.
HAVE FUN! That's the most important tip of all. INBOUND is like a holiday for marketers. We wait for this exciting event every year, but it seems to go by so quickly! Make the most of your time, prep a bit beforehand so you're organized, and have an awesome INBOUND week!
For the latest updates from INBOUND, be sure to follow us on Twitter! Want to connect at INBOUND or discuss your goals with HubSpot, you can schedule a complimentary inbound assessment with our team of experts.