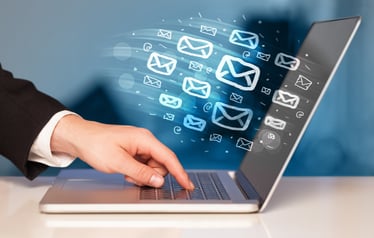 Contrary to what others might say, email marketing is not dead. The fact is, email marketing has simply evolved. It is no longer about delivering the same message to your entire list. It is about delivering the right content, at the right place, and at the right time.
Check out these 6 tips to help you create email marketing that people love, and increase your email marketing conversion rates:
1) Use Dynamic Content: Did you know there is a 7% higher click through rate when using a person's first name in an email? This seems so simple, yet companies still send out blanket messages not addressed to one person. Being human allows people to connect with you and your brand. Over time, this will create the connection you need to convert that lead into a customer.
2) Be Human: What is the email address that you send mass emails from? Some companies send mass emails from noreply@theircompanyname.com. While this doesn't affect their open rate (because people don't know that until they open it), it does affect the reply rate. When you send an email from an email address that won't accept replies, it lessens the ability for someone to engage with you and your brand. Encourage the conversation and let people reply to you and connect with you.
3) Avoid Over-Communication: If you don't have something urgent to say, it might be best to not say it all. Unfortunately, people are no longer waiting for a weekly or monthly newsletter. People are inundated with emails every day, so if it's not useful content, you will likely just be annoying your leads instead of connecting with them. Only send email when you have incredible, valuable content to deliver.
4) Purge Your List: If someone isn't engaged over a certain period of time, it might be time to stop emailing them for a few weeks, or even a month. Then do a win-back campaign. This might help them see exactly what they were missing when they weren't seeing your content as frequently. And if not, it might be time to take them off your list so you have a fresh and valid list to work from.
5) Check Your Work: Emails with spelling and grammar errors result in a .6% lower click-through rate. While that number may seem small, your readers will judge you. Make sure you have double and triple checked your content before sending it out to the masses. A second set of eyes is always a good idea!
6) Images Are Necessary: Emails that have 1 - 8 graphics have 5 times more clicks. Try testing an email with no images or CTA's, and compare it with the click through rate of an email with images. The one with images draws the reader to do exactly what you are looking for them to do…click to covert, click to buy, and more.
Email marketing is becoming more sophisticated every day through list segmentation, developing buyer personas, and creative content development. If utilized correctly, email marketing can be key to your marketing strategy. If utilized incorrectly, or as email was several years ago, it could be detrimental to your marketing strategy.
We invite you to schedule a 30-minute meeting with our email marketing specialists to discuss your email marketing strategy. In addition, feel free to download this template to help you set your appropriate marketing goals for your next campaign.
What tips do you have to increase your conversion rates?