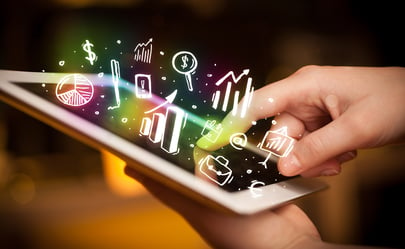 As businesses require more effective digital marketing strategies to drive awareness with their target audiences, the techniques also need to evolve with the ever-changing state of marketing. During the days of TV and radio being the main channels of marketing, marketing wasn't quite as challenging and businesses could effectively reach their target audiences without much effort.
However, with the advent of new technology, the emergence of numerous platforms, and greater competition, it has become much more challenging for businesses to reach their audiences as companies are constantly competing for that space. If you are looking for ways to gain more awareness with your target consumer, here are 6 digital marketing tactics worth considering for your business.

Messaging Apps
Marketers are always in search of effective ways to promote their brands. Messaging is an incredibly effective way to get in front of your target audience, while on a channel that they are already familiar with and using daily. Many of these apps provide a better way for businesses to interact with their consumers as well. Well-known apps like Facebook Messenger, WhatsApp, Instagram Messenger, and WeChat are not just limited to communicating with friends and family members. Businesses can target their potential consumers with personalized advertisements as well. As there are millions of users already using these apps for communication, these messaging tools have become an effective way for companies to market to their audiences.

Display Product Prices in Local Currencies
Online buyers tend to leave websites when product prices are shown in global currency because they don't know the equivalent price that they have to pay with their local currency. You can automate this entire process with tools like Auto Currency Switcher. This is a purpose-built extension for the Magento eCommerce platform that recognizes the location of users by their IP addresses and converts product prices in the currency assigned to their region.

Voice Search
With the advent of digital assistants, the ability to search for information on the internet has changed drastically as approx. 50% of all searches will be conducted by voice by the end of 2020. Digital assistants like Alexa, Cortana and Siri have proven to be game changers as they have successfully grabbed the attention of people belonging to every age group. Check out this infographic to see other stats and trends on voice search and why this is another strategy you should consider.

Live Streaming and Video Content
Well-known video sharing platforms like YouTube and TikTok have made video streaming extremely popular, especially among younger audiences. Video continues to be a proven way to engage your visitors and humanize your brand. Social media platforms like Facebook, Instagram, and Twitter are also being utilized to share video content to a wide range of audiences.
Some of the reasons for adopting live streaming and video content is to have a way to connect with your audience in a more meaningful way on a channel that they are already on daily. It also gives them a chance to connect directly with your brand online. In addition, if your website includes video content, it would likely acquire 50x more organic traffic compared to traditional content.

Conversational Marketing
Conversational marketing has also grown quite considerably over the last several years. As a marketer, when you have a direct conversation with your prospect, not only can you better understand their needs and interests, but you can create more personalized marketing strategies to that unique person. Conversational marketing allows you to do just that. When you add something like a chat bot to your website, it allows your visitor to get instant information that they are searching for immediately. It doesn't mean they can't connect with a human, but it does mean that they stay on your website longer, browse more content, and have a more comprehensive website experience.

Influencer Marketing
People tend to get inspired by the key leaders belonging to any industry. These leaders have a great influence on people who want to follow them, listen to their recommendations and even adopt their type of lifestyle.
These individuals can range based on your industry. For example, if you sell a product for moms, it could be an individual with a mom blog that promotes products and services for other moms. Or if you sell fitness equipment, it could be an individual that is well-known in the fitness space. It doesn't need to be a celebrity, and it doesn't need to be someone with a mass amount of followers. As long as they have the right followers, they can have a tremendous impact on your brand by sharing your content and offers. This typically doesn't require payment from the company, especially if it is a larger influencer in your industry. However, you will see a greater impact because they act as more of a referral source for your business instead of a traditional marketing source.

As you can see, there are many new tactics and techniques to engage with your audience through digital marketing, and the list just continues to grow. It doesn't mean every tool is right for every business, but as a marketer, it's important that you stay ahead of the curve so you know what may be beneficial to test with your target audience.

If you're interested in discussing your current marketing strategy and how you can better incorporate these 6 tactics into your strategy, we invite you to schedule a consultation with our team. You can also check out our marketing explainer videos if you have any questions on the various aspects of digital marketing.
Guest Blog Contributor: Basim Butt is a digital marketing expert at FME Extensions. He has a passion for helping people find innovative solutions in web design and digital marketing. He has written numerous blogs on eCommerce, digital marketing, and business strategy. You can find him on LinkedIn.