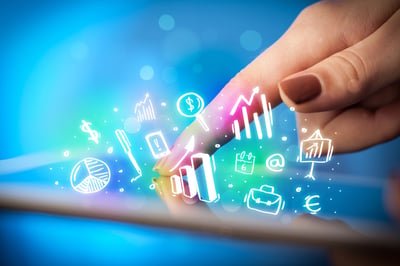 Have you ever wondered if your prospects know if you exist? If you are lacking a strong online presence, there's a good chance they haven't found you yet. That's difficult to consider, isn't it? It's one thing to have a blog, or an updated website, but it's another thing to have a complete online presence integrating your website, social media pages, and even personal pages, online.
You may feel like your online presence is strong, but if your target market is confused, then there's a problem. It is very unlikely that confused prospects are going to convert. Never underestimate the importance of clarity in your online presence, offline presence, business branding and personal branding. AND...these all need to be integrated together.
Here are 5 questions your audience is asking about your overall online presence including your website, Facebook page, LinkedIn group, and more. Look at these questions to see if you may need to restructure some of your online channels to enhance the cohesiveness of your brand.
What's in it for me? Every prospect, customer or supporter will go to your website or social media page and ask this question. Let people know why they should care. It seems obvious, but this is one of the key things that is missing in a majority of online sites.


How will I know this is for me? This is a key question, too. Your website and social presence has to speak directly to your target audience. Don't try to appeal to everyone. This will never work. Appeal to the target audience, and let them know they have found the right place. If you speak their language, you will be able to bring them further into your sales funnel.


What do you want me to know? Make it completely transparent what you want them to know about you. Define the message you are trying to get across. No one should ever leave your LinkedIn group, Facebook page, or website without having a clear picture of what you wanted them to understand.


What should I do next? Well if someone is asking this on your website, this is a good thing! They want to interact with your brand! The biggest crime in marketing is not having a place for individuals to convert. Guide them through the process through calls-to-action, offers, and blogs to keep them moving through your sales funnel.


How can we keep this relationship going? This is another great question that every company dreams of hearing their prospects asking! On all of your online sites including social media pages, your website, and personal pages, give individuals ways to connect with you through every possible channel. You never know what people are most comfortable with, so allow them to "Like" your Facebook page, subscribe to your blog, Follow you on Twitter, and more.
These 5 questions are crucial when evaluating all your online sites to ensure that your branding is consistent, and your online presence is strong. Remember, these are the questions that your prospects are asking when they come to your pages online. Ensure that you are not sending mixed messages across channels, and that you are staying consistent with your brand and your target market. This will help you align your messaging, and find the right prospects for your business.

Need help getting started? We invite you to schedule a complimentary inbound marketing consultation where we can discuss your current campaign initiatives, strategy and even the process you have outlined to make sure it's a success.