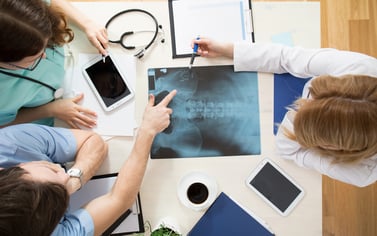 It used to be that patients and prospective patients sought healthcare services from doctors and hospitals that were located close to their homes. Indeed, physicians often referred patients to clinics, laboratories and PT based on the criterion that the offices were near their communities.
Now, however, quality care is more important to patients than just the proximity to their home. They search online for not only symptom and diagnosis articles, but for information about doctors and hospitals to find the best option for them. They choose hospitals and physicians for what they offer rather than just location. Because of this, healthcare organizations need to be in such a position that consumers will find them on the platforms they choose to use by optimizing their digital channels to get found by patients at the time the patient is looking for healthcare services.
An inbound marketing plan may just be the ticket to driving more patients to your digital channels and lowering patient-acquisition costs. Inbound marketing is a strategy to attract new patients through content marketing, search engine optimization, social media, and blogging, while still keeping your marketing budget on track. It has been proven that the ROI utilizing inbound marketing is more successful at a less costly price because the content being created helps to answer the question of the patient at the time they are searching for those answers. In fact, inbound leads cost 61% less than outbound and traditional marketing leads.
Nearly every hospital and physician practice has a website. Many of those websites offer prospective patients information about the providers, their awards and accomplishments, disease information, referrals to physicians, and a host of other categories. Websites are a great place to start in terms of online and inbound marketing, but there are many other facets to inbound marketing that make a fully integrated approach for your practice.
The concept behind inbound marketing and why it works so well for healthcare practices is to earn the patient's attention to your healthcare organization's digital channels by creating relevant and valuable content that it is not considered advertising. The basics are already in place. These simple tips can help assist in integrating this strategy.
Evaluate your website for ease of use: Ensure that provider information, credentials, locations, contact information and downloadable forms are easily accessible to patients on your site. Patients, and really all online users, want information quickly and easily. Gone are the days of waiting on hold and arriving 30 minutes early for an appointment. Your website needs to be the first access point for patients to get all necessary information before and after their appointment.


Turn disease information into blogs: Have you ever searched for a symptom online? Yes, we are all guilty of it. As a specialty practice, or a general practice, you have critical knowledge to share with patients. While we don't want everyone making their own diagnosis at home, write blog articles and other content such as checklists and guides that will help to better educate patients prior to their appointment with you. Your patients are searching online for this information anyway. You should capture this traffic and encourage an appointment as a next step to help avoid patients making their own diagnosis at home.


Utilize social media:

More than 40% of consumers say that information found via social media affects the way they deal with their health. Help your patients get better information on their health through your social channels by providing tips to stay healthy and promoting your latest blog articles and practice updates. Social media also gives you a way to promote new awards, credentials, new providers at your practice, and more.

Maximize the use of email marketing: Too often, patients feel as though they can't connect with their doctor's offices unless it's via voicemail, or coming in for an appointment. While we know you can't communicate with your patients via personal email like some businesses can, consider a monthly newsletter with healthcare tips, updates from your office, and ways to connect with your practice outside the standard annual checkup. It will keep you practice top of mind, and give your patients another way to feel engaged.


These inbound marketing strategies help build patient loyalty when it comes to them choosing a hospital or healthcare practice in the future. Patients will not only return for services, but will pass on their pleasant experiences to their friends, neighbors and family.

Are you looking for tips on how to utilize inbound marketing at your practice? If so, we invite you to schedule a complimentary inbound marketing assessment with our team. You can also view our healthcare inbound marketing case studies.