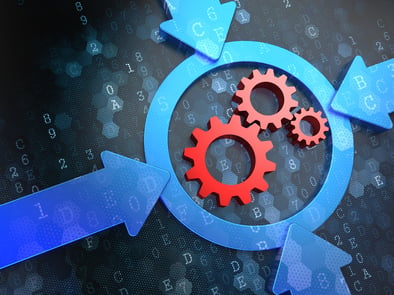 Automation of old processes is becoming more and more popular within organizations and marketing is certainly no different. However, some hear the word automation and picture unmanned software, or even robots, performing repetitive tasks – of course the reality is very different. Marketing automation, specifically, is all about simplifying previously manual processes and increasing availability of time whilst minimizing resources spent, for small and big marketing teams alike.
First, let's clarify what is meant by marketing automation. In simplest terms, marketing automation refers to software that automates and consolidates multiple processes and customer data, on one easy to use platform. There are different types of marketing automation software available and some will be more suitable for certain businesses over others. Just remember that software doesn't do it on it's own. There needs to be a strategy and marketing automation expert in place to find opportunities that make it run efficiently and effectively. Businesses should evaluate their strengths and weaknesses to help pick the best suited software, from social media or email automation, to all-encompassing software that brings together campaign management, analytics, and a customer data platform, allowing for easy tracking and delivery of customer insight.
If you've been considering marketing automation for your organization, here are 4 ways that it can positively impact your business.
1. Personalization
One of the main challenges facing companies today is engaging with consumers in a way that feels personal, building long-lasting relationships in the process. Marketing automation software that utilizes customer data platforms can aid in successfully achieving this goal by segmenting customers into highly targeted audiences. This ensures that the right message is reaching the right person and doing away with generic mass emails that ultimately just annoy the people they're trying to each. The profiles are continuously populated and updated so you can feel safe knowing you're always working with the most current data.

2. Welcome Emails
The first contact a company has with a new customer can oftentimes be crucial in setting the right tone and making a great first impression. Having a welcome program in place when a customer subscribes to a mailing list or creates an account is a truly great opportunity to begin developing a relationship, communicating your brand's ethos, and even encourage purchases. Welcome emails are also a good opportunity to start gathering even more data and triggering further communication or customized content.

3. Customer Retention
A brand's bottom line is often affected by win-back and abandoned cart-campaigns. Customers can't be expected to make consistent purchases all the time, though this doesn't mean that they're closed off to meaningfully engaging with a brand – they sometimes simply need an incentive. Boosting customer retention leads to healthier profits since loyal customers tend to spend more overall and rewarding them accordingly boosts this further. Automation retention programs take manual tracking out of the equation, acting as an insurance policy, by re-engaging customers after abandoned carts or long periods of inactivity.

4. Multi-Channel Marketing
Marketers are aware that successful campaigns must be coordinated across different channels and devices since customer journeys tend to be non-linear. As customers' attention is spread out across different platforms, it means that brands have more opportunity to capture their attention but it's also an easy process to get wrong. Marketing automation, by consolidating all data and campaign management tools in one place, makes this far easier to achieve. Marketers can use automation software to target customers in a multi-channel manner, customizing the types of messaging and communications that are most suitable for a specific customer at their point in the customer journey. This creates a more organic relationship between customer and company, ultimately benefiting both.

These are just a few of the many positive benefits that accompany the implementation of marketing automation in an organization. If implemented correctly, and with the right amount of time and attention, marketing automation can prove itself to be very affective for all business types. Overtime, it will completely change the way your organization manages its time, its teams and its targets.

If you're interested in implementing a marketing automation strategy, or looking to improve your current marketing automation strategy, we invite you to schedule an inbound marketing consultation with our team. You can also check out our marketing explainer videos if you have any questions specifically on video marketing.


Guest Blog Contributor: Matthew Walker-Jones is a freelance writer, specializing in content covering topics including data driven marketing, marketing automation, online data protection, business continuity, data recovery and cyber security. With a passion for all things data, Matthew is constantly staying up to date with the latest news on marketing and data security information.