Integrated Marketing Communications (IMC) is a strategic, collaborative, and promotional marketing function through which a targeted audience receives consistent, persuasive, and reinforcing brand messaging in an integrated and comprehensive way to move buyer's through the decision making process. To help you develop your integrated marketing communications strategy, consider using these four steps to develop and implement a cohesive and integrated marketing strategy and jumpstart your success.
1. Identify Different Marketing Communication Methods
As part of your integrated marketing communications strategy, it's imperative to determine the various marketing communication methods you want to leverage as part of your plan. Consider your target audience and how they like to receive information, and what channels are the most popular for them. From there, determine what channels are most relevant for your specific campaign. Some examples include:
Content Marketing: Make your content available online through blog content, premium content, marketing automation, and dynamic website content to help your potential buyers connect and learn more about you even before they start the decision-making process
Email Marketing: Use email to re-engage your existing audience through unique and helpful content. Always consider your existing contacts and how you can re-engage them through content. It's not always about generating new leads, but oftentimes your most impactful marketing efforts come from delivering the right content at the right time to your existing subscribers.
Social Media Marketing: Social media opens the door to building relationships, developing brand awareness, and generating website traffic. When combined with email marketing and content marketing, online marketing campaigns utilizing social media can truly bring exceptional results by connecting with your target audience on a platform they are already spending time on regularly.

2. Develop a Marketing Communication Plan
Once you have determined the marketing methods that are going to resonate with your audience, it's time to develop a comprehensive plan to execute on your marketing initiatives. To do this, you need to focus on three primary items:
Audience: Determine the buyer persona for each of your marketing methods. For example, if one of your personas are baby boomers, consider email marketing and Facebook. If your other persona is millennials, consider texting and Instagram.
Content: Define the content that will speak to your audience the most effectively. For example, if you are trying to generate a lot of new contacts for your database, you may want to have a top-of-the-funnel offer such as subscribing to a newsletter, downloading a checklist, etc. If you are trying to drive re-engagement in your database to convert existing leads into opportunities, consider case studies, video testimonials, and more.
Cadence: It's important to understand how often people like to receive information. You can get this data from a variety of marketing automation platforms. For example, in HubSpot we can see how often people read emails, engage on the website, and even on social media. We can use that information to ensure we are sending content frequently enough, but not too frequently that it becomes overwhelming for the prospect. Use the data available to you to make the best decision based on your audience.

3. Understand the Customer Decision-Making Process
Understand what makes customers decide to buy a product or service, and then discover why they would decide to buy from you. Some customers use an extended decision-making process, but others use low levels of involvement to make limited, nominal, or spontaneous decisions. Most customer decisions follow a basic pattern while involved in a particular situation that could result in a sale. This is called the Decision-Making Process, and the following is an example from HubSpot that outlines this as well.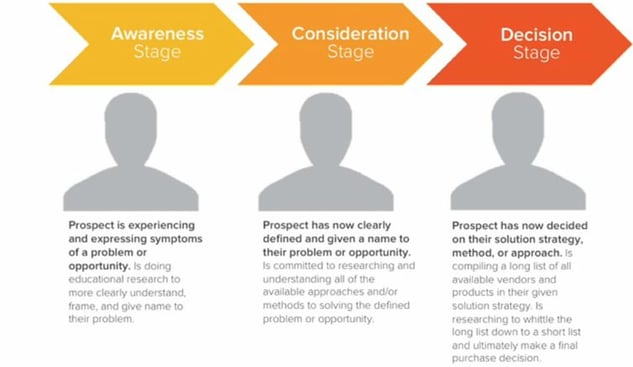 They recognize a problem.

They search for information.

They identify products and services that can solve the problem.

They choose which alternative they will buy.

They assess the after-the-sale experience.
Companies that understand the complex nature of consumer behavior can enhance the effectiveness of their communications by tailoring their message to the decision processes of their audience.

4. Implement Your Marketing Communication Plan
Now it's time to implement your plan and see the results. Ensure that you are using a calendar to know what content is being sent at what time to prospects, and on what channel. This will help you organize your campaign assets and make sure you are communicating to your prospects at the right place and time in their decision-making journey.
Creating a customer-focused marketing communications mix that educates and bonds with your customers and prospects in ways that favorably differentiate your company as one that can best satisfy their needs is an important part of the integrated marketing approach. You must choose the marketing methods that most effectively reach your audience and present an integrated, seamless, and consistent message. This will help separate you from the rest, and engage your prospects and customers at various levels of the buying cycle.

To help make your marketing communication strategy comprehensive and results-driven, continue to monitor the needs of your prospects, focusing on the capabilities of your product that solve their problem, inspiring confidence in your brand, and generating audience excitement. And lastly, always stay ahead of the curve to find new ways to make your marketing communication strategy different from your competitors, so your communications effort contributes to the value of your brand.


Are you looking to develop and implement an integrated marketing communications strategy? Click here to schedule a time to connect with our team.

This blog was originally written for the London Management Centre, a strategic partner of Prism Global Marketing Solutions. You can view their website and original blog at http://www.lmcuk.com.