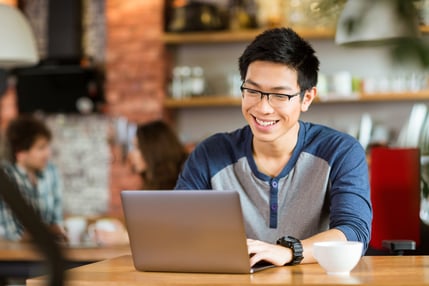 2018 has been a big year for the blogging industry. It's come a long way since 1994 when freelance journalist Justin Hall published his first blog on the internet. In today's times, it feels like almost everyone owns a blog (and profits from it), and blogging is a must for businesses that want to establish a strong online presence. More than half of the top 200 Fortune companies maintain a public corporate blog where they inform customers and clients about their products and services.
In addition, the current process of setting up a blog is easy, elegant, and won't take time or development resources. The numbers for raising brand awareness are also fascinating, as 70% of consumers stated that they learned about a company through articles, and not ads. The SEO boosts are impressive too, as businesses with blogs have 97% more chance to gain links to their website, and each blog post enhances the traffic five times over.
If your business is still struggling to get started, here are 4 essential tips for starting a successful blog in 2019:

1. Choose a Blogging Platform and a Reliable Hosting Company
HubSpot is one of the best options for a blogging platform, especially for businesses that want to advance their content with the proper SEO tools. If your goal is to turn your readers into customers than you should consider giving HubSpot a chance. It works as a fully integrated blogging platform that can get you sustainable traffic from Google searches. The mechanism behind HubSpot blogging is quite understandable, even for beginners. You can create your content strategy, which utilizes keywords, topics, and call-to-action by using the tools provided to you by the platform. You can also leverage SEO tools to build powerful pillar pages of content that help drive SEO in today's competitive search environment.
Another good option for a blogging platform is WordPress. Over 30% of everything you see on the internet is featured on the WordPress platform. The blog setup and creation process is extremely simple and straightforward, which lends to a fast setup time and relatively easy maintenance.
Once you decide on the blogging platform, the other decision you need to make involves the hosting platform. We would recommend you to do your due diligence and choose a provider that can guarantee a good uptime (99.9% and above is most acceptable), a 24/7 technical support, and a reasonable price/value ratio. The Wordpress hosting by Canspace, for example, can offer you all of the above and they feature a few extra perks and free apps in the same package.

2. Content Creation and SEO
Once your blog is up and running, you have to start thinking about content creation, SEO, keyword research and other essential details. Why are keywords important? Because they can be the difference between a few readers and a huge following! Keywords are how Google can find your articles and show them to the right people. The best way to perform keyword research is to use tools like Ahrefs, Moz, or SEMrush to see the keyword search volume and difficulty. Another way to do this is to have a content marketing agency do this for you.
The next task on the list is choosing the subject and implementing the keywords in the content. It would help if you didn't smother the text with keywords because that way it's going to be difficult to read and you risk making it too optimized, which is not the best approach. Instead, focus on making the flow of the words natural and always stay on topic. Most of the time, blogs that center on one or two similar subjects have the best chance of success. That way you can establish yourself as an authority in a particular niche.

3. Content Promotion and Link Building
If you spend two hours writing your content, then you should spend at least four hours promoting it. Content promotion is the most essential job in the blogging industry, and the best (and simplest way) to do that is through link building. You can achieve this with email outreach campaigns, writing guest blog posts for other more popular bloggers and influencers in the niche, or even consider paid promotion on Facebook, Google, and Instagram. Remember to share on social media, as that's where most of your referrals will come from as well and it will build your social engagement.

4. Email Marketing
The last tip on our list involves emails. One of the most used approaches for email promotion in the blogging industry is a blog notification newsletter. Not only does a blog notification newsletter give you another way to get your blogs in front of your readers, but it gives you the opportunity to ask for their contact information in exchange for weekly blog updates. Once you have their contact information, you can then send them lead-generating offers like an e-books, checklists, guides, etc., to help bring them further down the marketing funnel.

If you're interested in implementing a cohesive blog strategy, or looking to improve your current blog strategy, we invite you to schedule an inbound marketing consultation with our team. We will discuss the important metrics to track, and how to make sure 2019 is successful for your current and future blog strategy.
You can also check out our marketing explainer videos and discover all of the ways that you can maximize your marketing efforts.

Guest Blog Contributor: Sam Hoffman is a business and marketing consultant who helps digital businesses reach their exact audience. Sam is passionate about optimization and analytics. His current focus is helping decision-makers design their perfect business tools. He frequently writes about the latest advancements in the digital marketing industry.