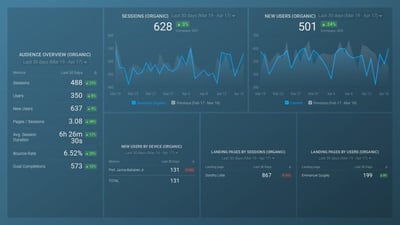 Do you find it challenging to choose the right metrics to measure your content marketing success? You're trying to pick the ones that suit your needs, but there are so many. Everything seems important, and you want to prove the effectiveness of your efforts without wasting your time measuring things that won't help you do that.
And you know what? We've seen many brands completely neglect some important metrics that can tell you a lot about how well your content resonates with your audience.
Here's our list of the top 4 overlooked content marketing metrics that prove your ROI.


1. Customer Sentiment
What do your customers think of your brand? What are they saying about you on social media? Many companies don't pay enough attention to social listening, which can be truly important for your content marketing strategy.
Your audience may not always engage with your content directly, but they'll for sure tell their friends and followers about the experience they've had with you, whether it's good or bad. Monitoring your customer sentiment can help increase brand advocacy and create better content in the future.


2. CTA Conversion Rates
Are your readers reacting to your calls to action?
It's essential to measure the number of clicks you get on CTAs at the end of your blog posts. This number can indicate whether your audience finds your content helpful, engaging, and persuasive enough for them to take action.
This action can be anything from signing up for your newsletter to actually ordering a product or scheduling a talk, for instance.


3. Pipeline Contribution
Rarely do marketing teams measure how much their content contributes to the sales pipeline. And it's quite a good indicator of the value your blogs or social media posts have for converting leads into customers.
Moreover, you can leverage marketing automation tools to find out how other types of content, such as webinars or e-books help create a sales opportunity.


4. Page Value
You can easily locate Page Value in Google Analytics as it's a built-in metric to follows. It can show the average value of each page on your website by calculating it using a simple formula: the transaction value of the page divided by the number of unique page views.
This way, you can find out what pages have the most success when prompting your readers to reach out to you or place an order. Knowing your average page value can also help you determine whether it's better to drive traffic to your product or service page or another piece of content you've published.
Choose Metrics That Match Your Goals
Thinking about focusing on your content marketing ROI? Want clear evidence that your content is driving results? With this objective in mind, try to look beyond the most commonly used metrics and include the ones we've suggested in your dashboard. Not only will it be easier for you to track your content marketing performance, but your reports may provide more accurate information and look more convincing.
If you're interested in discussing your current or future content marketing strategy, we invite you to schedule an inbound marketing consultation with our team.