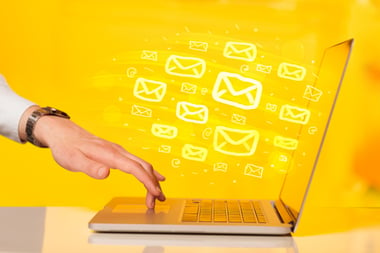 If done right, email marketing has the best ROI of any marketing venue. The average ROI is $42 for every $1 spent. The key term here, though is, "if done right."
Email copywriting is a bit of art unto its own, but the goals are the same as those for any marketing campaign – conversions and sales. And "doing it right" is not that difficult, if you follow the right steps and research proven rules.
Let's unpack 12 tips that will make you an email master.

1. Think Like a Journalist Writing the Subject Line
Journalists understand the importance of a headline. If they do not catch the reader's attention immediately, the article will not reach a wide audience. Attention-grabbing subject lines are no different. In fact, 35% of recipients open their emails based on the subject line.
Take advantage of soft psychology – consumers don't want to feel they are missing out on something, and consumers like to have their problems (pain points) solved. Instead of a common headline of "Get your 20% discount," how about, "We did something crazy just for you." Instead of "We have hair thinning solutions," consider "Your hair-thinning problem solved!" or "Here's how to kick that hair thinning problem."
When your subject line only appeals to a consumer's rational side, he or she is unlikely to open it. Here is a chart based on research from NeuroMarketing on marketing campaigns based upon emotional vs. rational: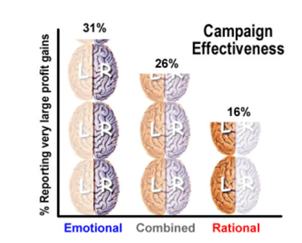 2. One Thing and One Thing Only
The biggest mistake email copywriters make is jamming too much information into a single email. Each email should address one problem and one topic only. If you stuff too much, readers become confused. What is this email actually about? And what exactly do you want the recipient to know and do?

3. Be Honest - Bait and Switch Never Works
The quickest way for you to end up in a spam folder is to mislead your recipient. And yet, many email marketers continue to use it. The subject line is compelling and engaging and promises the recipient something. Then, when a reader/viewer opens an email, one is taken in a different direction.
This tactic may result in lots of opens and maybe even a few click-throughs. But consumers mostly feel misled, and they tend to trust your brand less.

4. Use Storytelling When it Fits
Many email marketers now use media, especially video, to show value or benefit to consumers. After all, research shows that the human brain processes visual content 60K faster than text. And it also retains visual information better.
A customer's story, in video format, lends credibility and gives the recipient the ability to relate to someone just like him. It is selling in its most indirect way.

5. Have an Actionable CTA (or Better, a Few)
Give your recipients a few ways to get to your landing page. You can have your URL as a link. So, you can say, "click here to get your savings right now." The point is this: if you space these CTAs throughout your email, they serve as a reminder as it is read and make it more convenient. No one has to go back and look for your URL address to respond.

6. Write Longer Emails if Appropriate
You may have a story that you will tell in words rather than visually. It could be a personal one that will serve to build a relationship or greater trust. These longer emails will work if you are careful to break the points down into subheadings, so that content is "snackable."
The other critical part is to make sure that they are grammatically correct. Good writing can be a challenge for some marketers. If this sounds like your issue, check over here to find not only writing samples but editors who will review, analyze, and fix your grammatical errors.

7. Keep Your Brand Voice and Tone Consistent
There is a huge difference among companies offering pre-paid funeral plans, luxury jewelry, meal subscriptions for busy people, or energy drinks. Just be sure that your tone is right for your audience and "matches" the tone you use on your website and in all of your other marketing materials. And ALWAYS show that your product or service is their solution.

8. Avoid Sophisticated Language
Even if your brand handles serious matters (e.g., funeral plans), NEVER go for sophisticated language structures that they will find challenging to understand. Always use plain and simple English. Research shows that anything higher than an 8th-grade reading level is probably too sophisticated. Use a readability tool to get a score on your emails.

9. It's Not About You
The point of any marketing copy is to show consumers value, not to focus on your products' features. You are here to solve their problems, not to provide all of the characteristics of your fine products or services.
For example, your product may be mattresses. You can spend a lot of time describing the features of your mattresses. But is it the one that consumers want? They want a good night's sleep. Your email should focus on that - their problem and how you can solve it.
Here's a great example of features vs. benefits: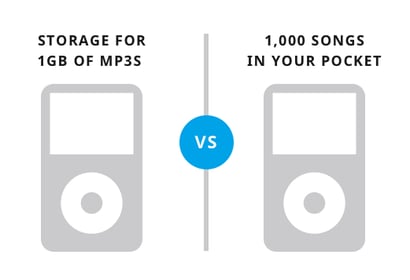 Note that the visual on the left focuses on you and what you bring to the table; the visual on the right focuses on what the consumer wants. This is where you want to go with your email copy.

10. Don't Worry Too Much About Design
Design is crucial for your website. You don't have to come up with some appealing design for an email message. There are a few exceptions perhaps but generally reserve that glitz for your landing page.

11. Conduct A/B Tests
A/B testing should be an integral part of your campaigns. Try different subject lines, for example, and see which ones are more clickable and get more responses. A good email marketing service should provide such a tool for you.

12. Segmentation is a Must
This probably does not bear even commenting on. If you are conducting email campaigns, you know that you have consumers in all spots of your sales funnel. Crafting different emails for each segment goes without saying.

In the End…
Summing up, we want to point out crucial ideas:
Grabbing attention with a compelling subject line is a "must".

It's all about the customer and his problems that require solutions.

Provide solutions, not features.

Use simple and plain language.

Keep your brand tone of voice consistent.

Use stories and longer emails when appropriate.
Go forth and design those email campaigns that will work!
If you're interested in discussing your current or future email marketing strategy , we invite you to
schedule an inbound marketing consultation with our team.

Guest Blog Contributor: Linda Ferguson started her career in a local company as a content writer 5 years ago. She has always been passionate about academia and writing. Besides her busy work schedule, Linda manages to find time for attending conferences that keep her up to date with the latest news in the industry. Follow her on Twitter and Facebook.