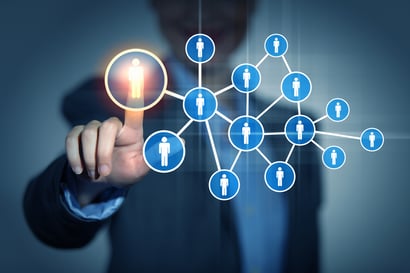 In 2017, Facebook engagement fell by 20 percent, according to a BuzzSumo report of over 880 million Facebook posts by brands and publishers.

While many businesses found workarounds that allowed them to stay afloat on the platform and reach their audiences, another hit was just around the corner. As Rival IQ notes in its 2019 Social Media Industry Benchmark report:

"Every industry saw a dramatic decline in Facebook engagement rates this year, and for many, that meant less than half compared to last year's engagement. The median last year was 0.16 percent, a number that no industry median reached this year."

As a business or marketer that is active on social media, these are disconcerting trends. The fact is that while some consider engagement to be a vanity metric, it is actually critical to extending organic reach and obtaining a prominent placement within News Feeds. Moreover, likes and shares help expose brand posts to the friends and followers of those who engage with a post. Therefore, establishing ways to use Facebook to reach a brand's target shoppers and boost engagement rates is critical for success on the platform and beyond.

That said, we will be exploring 10 simple ways for business to increase Facebook page engagement, and it all begins with timing.

1. Post at the Ideal Time
The timing of a post is critical to the amount of engagement it ultimately receives. After all, if a seller posts something at midnight, whereas peak engagement hours for the brand usually is at noon, not many folks are going to see the update.

There has been plenty of research conducted on the best times to post on social media. According to Sprout Social, the best times to post on Facebook are on Wednesday at 11 a.m. and between 1 and 2 p.m. That said, other studies contradict this information and claim that the weekends are the best time to post. While this information can be useful and serve as a rough guide, retailers should really dig into their own engagement data in Facebook Insights to determine when their audience is most active.

After establishing that information, utilize a Facebook scheduling tool or the scheduling feature within Facebook to plan out posts ahead of time to ensure that they receive the most exposure and engagement possible.

2. Analyze Your Most Popular Posts
It's not only the time of day and the day of the week that matter when it comes to receiving engagement as what retailers post is just as critical to earning likes, comments and shares. Occasionally, businesses create posts that receive an abnormal amount of engagement. This is a good thing and should be studied for what caused the uptick.

Was it a funny meme, a killer case study or a great sale? Was the post promotional? Did it contain an image or gif, or was it merely text? By digging through a retailer's Facebook analytics, merchants can establish which of their posts receive the most engagement and draw through lines to determine the commonalities of those posts.

From there, aim to duplicate the success of these updates by crafting new posts along those same lines.

However, if merchants want to get the most out of their Facebook post analysis and recreate the engagement levels previously received, it is advisable to partner with an eCommerce social media marketing agency that can effectively dig into a company's data and generate posts that make waves with an audience.


3. Recycle Your Top Posts
In addition to figuring out what drives audience engagement and creating new posts that aim to achieve similar results, retailers can also recycle their most popular updates. By reposting prominent posts at a future date, sellers can gain more value out of their content, potentially achieve as much reach and engagement as they did the first time around and hopefully get in front of new users at the same time.
However, instead of merely reposting the exact same post, sellers should change it a little bit by including a video or asking the audience a question.
When using this approach, be sure to leave several weeks in between the original post and its recycled version as this will help to ensure that followers don't get bored seeing the brand post remarkably similar posts over and over again.


4. Keep Your Posts Short and Sweet
When it comes to writing blogs and articles, no one likes reading a wall of text. This is something that we all (should) know. The same thing goes for Facebook posts.
Given that many of a seller's followers will be scrolling the site on a mobile device, extraneous, long-winded rants about this or that will ultimately get skipped, thus diminishing engagement.
Therefore, retailers should aim to keep their posts short and sweet, getting right to the point. When it comes to the ideal length of social media posts, Sprout Social reports that for Facebook, it should be between 40 and 80 characters, stating:
"Posts that contain 40 characters or less earn 86 percent more engagement. A study from Jeff Bullas found similar results, including that Facebook posts with 80 characters or less receive 88 percent more engagement."
Therefore, when crafting engagement-driving posts, aim to keep things short and snappy.

5. Include Images
While no one wants to read a wall of text, short posts without any sort of visual components are likely to be overlooked. For that reason, including vibrant, compelling images is a must for generating engagement on Facebook.


As has been revealed numerous times, Facebook posts that contain images received 2.3 times more engagement than those without visuals. While this research might be older, the trend still holds true.
However, it isn't just images that tend to drive engagement.

6. Upload Videos or Broadcast Live
The fact of the matter is that video posts tend to receive even more engagement than those containing photos.
It is indisputable that videos are the most popular form of content on the web today. Therefore, video content is a highly valuable tool in a retailer's pursuit of social media engagement.

However, merchants don't need tons of fancy equipment to produce professional, high-quality videos. As a Facebook news update from 2018 reported, Facebook Live videos generate an average of six times as many interactions as regular video posts.
Given that information, retailers can go live and give audiences an inside look at company operations, hold a Q&A session, interview industry influencers, make major announcements or feature educational information about various products.

7. Make Time to Reply
Improving Facebook engagement will require retailers to reciprocate and engage with those who leave comments. The fact is that people who leave a comment are actively looking not just to engage with the post, but with the brand. It is for this reason that businesses that take the time to reply to their audience receive more interactions than those that leave comments unanswered.
Therefore, it is incumbent upon retailers seeking to increase their engagement to reply to their followers and show them that they are listening and care about what they have to say. Not only is this a good look from a branding perspective, but it also encourages future interactions with followers.

8. Include Calls-to-Action (CTAs)
Including a call-to-action (CTA) is another popular engagement technique as this lets audiences know how they can support the business. This is precisely why so many posts include phrases like "tag your friends" or "smash the like button and leave a comment below." An easy way to generate engagement with CTAs is to end a post with a question, asking audiences to share their thoughts on a given matter.
However, while retailers want to encourage comments, discussions or even friendly debates, don't beg for them or come off as needy as this is a surefire way to minimize engagement.

9. Post User-Generated Content
One of the single most effective ways for retailers to boost their engagement on Facebook is to share user-generated content from followers. Whenever a person makes a post about a brand or one of its products, they are not only looking to share their thoughts with their friends and followers, they are hoping to catch the attention of the business, particularly if they tag the brand in the post.
Therefore, merchants should share these posts and give a shout out to their customers. Not only is this a great way to increase engagement, but it is also useful in building relationships and cultivating customer loyalty.

10. Have Fun
If a brand is having fun with their social media posts and interactions, others will want to get in on the action. This is exactly why Wendy's Twitter account regularly makes headlines and Zappos' social media accounts are always brimming with comments.
The bottom line here is that the amount of fun a merchant is having with their audience is directly tied to the amount of engagement they will receive.

Final Thoughts
Given that businesses are seeing declining engagement rates on Facebook, it is vital to have a plan to reach and engage with your audiences.
By implementing these 10 simple strategies for earning likes, comments, shares and increasing reach, business pages on Facebook can still cultivate a robust, lively social media presence for followers to engage with.
If your brand wants to ensure that it runs attention-grabbing, conversion-optimized Facebook ads that increase business revenue, reach out to Visiture's skilled social media advertising team. Their seasoned social media PPC professionals can help your business develop tailored campaigns that engage consumers at the exact moment they are ready to buy, bringing business right to your digital doorstep.


If you're interested in discussing your current social media strategy and how you can further align that with your brand and voice, we invite you to schedule an inbound marketing consultation with our team.