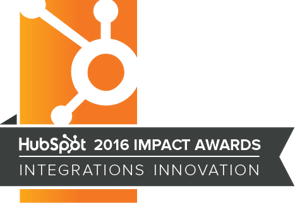 HubSpot, a leading inbound marketing and sales software company, recently announced winners of the Q4 2016 Impact Awards. Prism Global Marketing Solutions is thrilled to announce that we received the HubSpot Impact Award for Integrations Innovation. This award recognizes creative uses of HubSpot, in addition to HubSpot's featured integration partners, to deliver value, return on investment, and innovative marketing campaigns for their clients. This is the 3rd time in the last 12 months Prism Global Marketing Solutions has received this award.


"Prism Global Marketing Solutions has a great history of using newer HubSpot technology to do amazing client work. This is another chapter of that story. In this post, Prism cuts through industry standards and 'best practices' to deliver the right solution for their client. They do a fantastic job of outlining the finer points of the integration and back up their solution with data. It's an excellent use of a powerful integration and one that other Partners should consider emulating," said Marcus Andrews, Senior Product Marketing Manager, HubSpot.
About the Award:
Prism Global Marketing Solutions utilizes many of HubSpot's featured integrations with their clients based on business needs. The work featured for this award utilized the HubSpot integration, Seventh Sense, an email send time optimization tool based on behavioral analytics that integrates directly with HubSpot. The system analyzes historical email engagement data, builds a detailed profile on each subscriber, and then empowers marketers to automatically send campaigns at personally optimized times. This strategic process to email marketing gives marketers and business owners the ability to utilize email more effectively to get their message in front of their audience at the right time. Download the case study.
"We are honored to be included in the prestigious HubSpot Impact Award alongside Prism Global Marketing Solutions. Seventh Sense is committed to driving more value for companies that use HubSpot and email marketing as a critical channel, as demonstrated by Prism Global Marketing Solutions and their clients," said Mike Donnelly, CEO & Co-Founder of Seventh Sense.
Some of the key results highlighted in this case study and HubSpot Impact Award for the use of the Seventh Sense and HubSpot integration are:
Increased Click Through Rate of 18.1% (percentage of individuals clicking within an email)
Increased Rate of New Contacts from Email by 85% (visit-to-contact rate from email)
Decreased Time to Achieve Similar Email Results by 17% (faster time to convert contacts)
Re-engaged 15% of Dormant Contacts (individuals who had not engaged since 2015)
"We feel that HubSpot's featured integrations have a significant impact on helping our clients better attract, convert, close and delight their customers. Using HubSpot, along with a strategic and valuable integration partner like Seventh Sense, allows us to deliver additional value at varying levels of the organization, integrating marketing with the holistic goals of the business," said Rich Meyer, Marketing Director at Prism Global Marketing Solutions.
If you are looking to see how HubSpot can enhance your inbound marketing efforts, or how HubSpot's featured integrations can help streamline your business initiatives, we invite you to schedule a complimentary inbound marketing consultation with our team.