Discover How You Can Most Effectively Implement the Inbound Methodology
Inbound marketing and inbound sales is not always easy to implement or sustain. It requires building your inbound program around a methodology and platform that will grow with your team and your business. HubSpot Certified Training provides you with the necessary expertise and tools to help you successfully implement and manage your inbound marketing and sales program. These customized HubSpot Certified Training programs can be in-person, online, individual coaching, or a combination.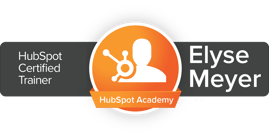 Why should you work with a HubSpot Certified Trainer?
A HubSpot Certified Trainer is highly qualified in the concepts and strategies needed to execute an effective inbound marketing campaign. In addition, all HubSpot Certified Trainers have been hand-selected by HubSpot to ensure they meet the criteria to provide highly professional inbound marketing training services for businesses around the globe.

Inbound Marketing / HubSpot Training Programs Include:
Inbound Strategy Development
Inbound Marketing Fundamentals
Search Engine Optimization
Blogging & Content Development
Lead Generation & Conversion Paths
Email Marketing
Marketing Automation
As a HubSpot Certified Trainer, the Prism Global Marketing Solutions team is able to deliver the necessary training for individuals and teams to design and implement world-class inbound marketing campaigns.
HubSpot Training programs are completely customized to your businesses needs, and can include in-person workshops, online programs, individual coaching sessions, or a combination of all of these.
If you're interested in learning more about our HubSpot accredited training services, simply schedule a consultation or fill out the form and a member of our team will be in touch within 1 business day.