A Solution of Two Key Business Data Challenges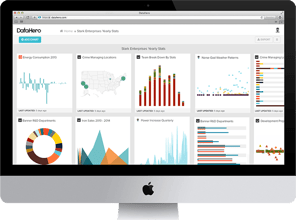 Have you ever struggled with combining your business data from a variety of sources all in one place? It can be time-consuming and is prone to manual data entry errors. This is where the DataHero and HubSpot integration can help your business solve that challenge. This HubSpot integration helps organizations capitalize on the data you already have in HubSpot to make more informed marketing and strategic business decisions.
If you're not familiar with DataHero yet, DataHero is a self-service data analysis tool that allows you to quickly connect to cloud services to pull together a dashboard of analytics and business intelligence without the help of an IT team. DataHero connects all of your reports from a variety of sources to bring into one, easy-to-use and easy-to-share dashboard tool so your entire company can have access to real-time, closed-loop reporting.
Why DataHero?
Challenge #1: Complete Suite of Analytics Tools

One challenge we have seen with many of our clients is that while all of their marketing data is in HubSpot, other information that might be in Salesforce.com, another CRM, spreadsheet, Box.com, etc. still needs to be reported on as well. This process can be very manual if the tools are not integrated and can't be reported on quickly and easily.
Challenge #2: Make Your Marketing & Sales Data Transparent
We have seen that many senior leaders and executive team members want to see dashboards as part of their reports. Dashboards give you the ability to see your data in real-time, in a concise layout and format that shows exactly where you are with your metrics in any given timeframe. This process makes your marketing and sales data transparent to everyone in your company, allowing for more open communication around internal initiatives and results.


Here are some things you can do with the DataHero & HubSpot Integration:
Track when a lead turns into a customer and time to close
Display data in different time groupings with HubSpot analytics
See how your site traffic is distributed geographically
Get a complete analysis of your marketing campaigns from different cloud-based tools


Who can use this integration?
The DataHero and HubSpot integration is available to all HubSpot customers with a DataHero account. If you're interested in learning more about how the DataHero and HubSpot integration works, and how you can make the most of your business analytics, schedule an inbound marketing consultation with a member of our team.